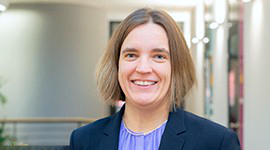 Dr. Kristin Reiche
Head of Bioinformatics Unit & RIBOLUTION Biomarker Center
Fraunhofer Institute for Cell Therapy and Immunology
Examples and Strategies for unlocking the potential of advanced molecular diagnostic tools
Despite a growing number of treatment options, the therapeutic situation for complex diseases like cancer or autoimmune diseases is often unsatisfactory. Personalized medicine can bring fundamental progress through a therapy selection individually adapted to the patient. Omic-wide and multi-modal diagnostic procedures are powerful tools to characterise markers at the single cell level or spatially resolved in close proximity to surrounding tissue.
All these methods result in large datasets of high dimensionality. Combined with clinical follow-up data and machine learning, these datasets allow tailored therapy choices. With continuous advancements of omic-wide technologies, we expect an increased use in diagnostics and clinical studies. Hence, new strategies are required for successful implementation of advanced molecular diagnostic (MolDx) tools.
With examples from oncology and immuno-oncology, I will provide insights into perspectives of the wet-lab, dry-lab and regulatory requirements to unlock the full potential of advanced MolDx tools.