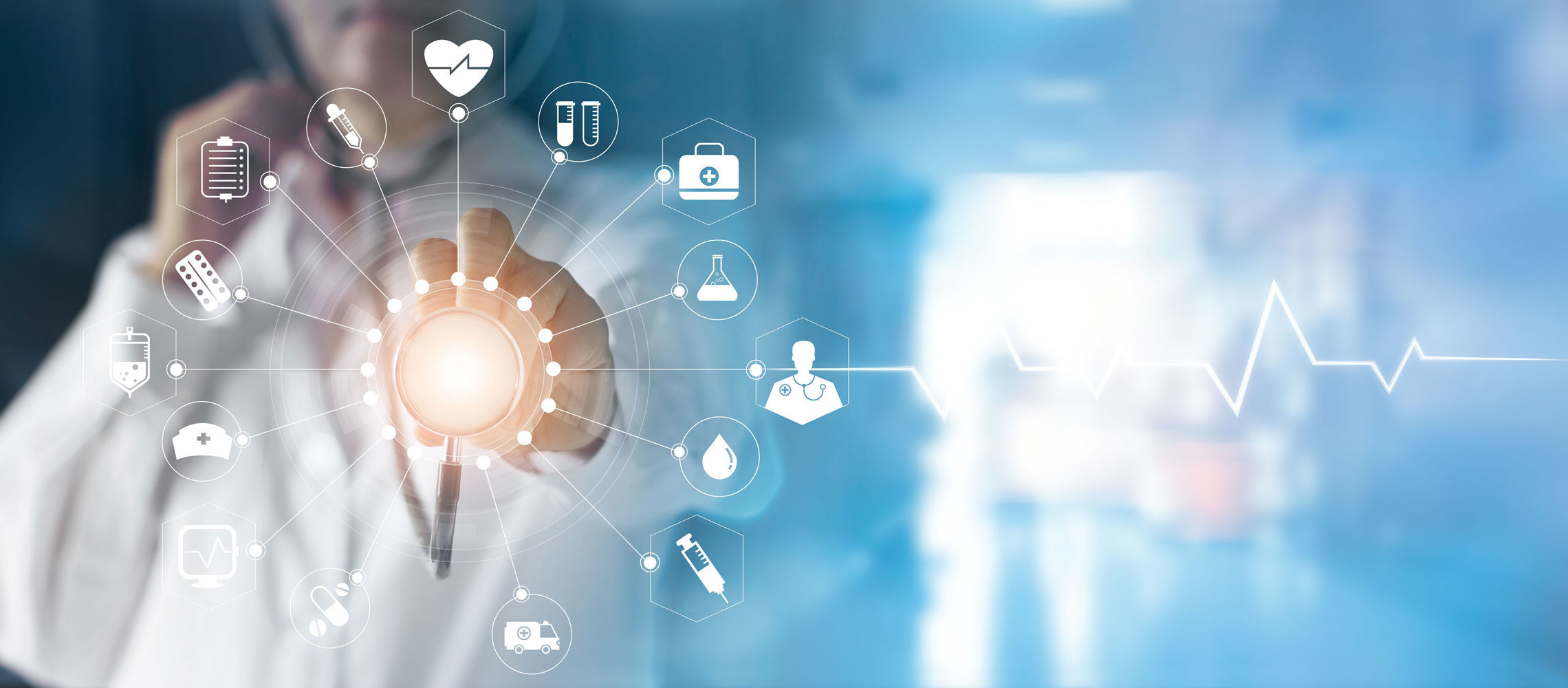 Scientific focus
The Else Kröner Fresenius Center (EKFZ) for Digital Health, is a joint cross-faculty initiative of the Technische Universität Dresden (TUD), the University Hospital Carl Gustav Carus Dresden (UHD) along with several Fraunhofer and Helmholtz institutes on the Dresden campus. Whereas conventionally the School of Medicine and the high-tech specialists work and research independently, the EKFZ bundles their expertise and brings them together through its interdisciplinary structure and network. Driven by a medical need and with direct access to the medical infrastructure, the EKFZ accelerates digitization in medicine for the benefit of the patient.
The EKFZ focuses its research effort on the direct interface of the digital world to the patient thereby serving as a bridge between medical big data efforts and traditional biomedical engineering. The EKFZ is structured in virtual application rooms that represent strategic development areas and will be strengthened by specific appointments for center professorships, and in core rooms, which provide the scientific infrastructure and theoretical basics. The competences from the core rooms are the basis for successful translation of high-tech innovation into routine care.
Clinical Artificial Intelligence
Digitization offers a variety of new approaches for personalized medicine and AI-based diagnostic recommendations. In particular, the chair will contribute to deepening the connection between medicine and computer science at TU Dresden to further develop the field of clinical use of artificial intelligence methods. The Faculty of Medicine and the Faculty of Computer Science will be linked with the EKFZ in a central role in research, teaching and transfer in order to deepen the connection between medicine and computer science at TU Dresden.
The application room aims at addressing tangible, clinically relevant questions using artificial intelligence methods of the following topics: developing AI-based clinical recommendations for action and therapy support systems, exploiting the linkage of molecular, clinical and imaging data or gaining new insights into the pathomechanisms of diseases.
Connected Care
The future workplace for healthcare professionals will command much more data and offer inherent intelligence and assistance. In order for this workplace to function properly, healthcare professionals and supporting technology must interact privately, safely and conveniently. New spaces of information delivery arise, be it surgical theatres, hospital rooms or medical homecare environments. In order to enable these spaces to become "smart", more and more real time sensory data need to be set to context and be interpreted by algorithms driving automated processes or by patients and healthcare professionals.
At the bedside, devices such as laptops or tablets are of limited use due to hygienic requirements and the need for a high degree of interaction flexibility with the patient. Here it is necessary to develop mobile assistance (and communication) systems based on augmented reality technologies, which are able to capture and process situations and contexts on the basis of static information and relevant sensor data and to provide multi-professional user groups with relevant data according to their needs. As a rule, these assistance solutions must not interfere with the human interaction with the patient, so that an intelligent control logic must be developed for this purpose, which takes into account the special requirements and the context of medical professionals. These are the main research agendas of the application room Connected care.
Implants, Sensors and Devices
Implants, Sensors and Devices epitomize the concept of bringing digital health to the patient interface, as data is obtained closely to the pathophysiological process. So far, sensors and diagnostics reside often outside the body. Here we are moving closer to the patient in selected application areas, as research is specializing in sensors and applications close to or inside the patient's body, such as implantable sensors or personalized implants. The respective professorship will serve as a central facilitator for medical sensor and implant activities and will perform teaching courses for engineers and future physicians.
Core rooms
Data Integration and Security
The core room Data Integration and Security provides clinical data for research, enables access to clinical systems within a secure and protected testbed for hospital innovation, and helps application room researchers ensure feasibility, privacy, security and scalability. The EKFZ will provide an organizational and technical environment for the development and evaluation of medical grade products and support all application rooms.
Research on data integration and security includes data management, data analysis, knowledge modelling and machine learning, modelling of complex systems and security in networked medical systems. One of the key challenges is how services can be implemented while respecting the privacy of their users.
Evidence and Implementation
As digitization of our life increases, so does the amount of digital innovations designed for the health care sector. However, while new concepts show promising results in small clinical facilities, they rarely reach the threshold from project status to full implementation in the health sector. While some reasons might be inherent to the system itself – especially those relating to data security and funding – others occur within the development process. The core room for Evidence & Implementation focuses on an evidence-based translation of digital health innovations into practical medicine by developing a standardized toolbox. This methodological toolbox supports prioritizing, evaluating and finally implementing effective and user-centered digital health innovations. An interdisciplinary board of experts in evidence-based medicine, usability research and clinical medicine as well as medical informatics, alongside representatives of patient interests and funding agencies, will not only evaluate project proposals, but also support the research teams behind each proposal with constructive feedback.
Teaching and Talent
The core room Teaching and Talent creates a unique interdisciplinary training environment for future physicians and engineers by implementing new courses for biomedical engineering and for medical software technology. Additionally, an integrated career development path towards clinician scientists is provided for physicians in cooperation with the Dresden School for Clinical Science .
The EKFZ for Digital Health aims at enhancing a generation of physicians with comprehensive technical knowhow and skills and vice versa engineers with a thorough understanding of medical and patient needs. When working with us, physicians and technologist will gain a holistic understanding of the future patient care. We enable them to learn from and work with each other to overcome the barriers of disciplines for effective implementation of medical innovation.
Regulatory Affairs
Many different stakeholders accompany the development of a medical device from its idea to its implementation in the healthcare sector. All these stakeholders have different targets: most innovative medical devices, fastest and most cost-effective market entry or maximum benefit for medical professionals. However, the regulatory requirements are usually not taken into account while achieving these targets. Most of innovative project ideas and their resulted medical devices cannot be placed on the market because the required documentation for market clearance is missing. Furthermore, a follow-up documentation might be too time and cost-intensive. For this purpose, the EKFZ establishes advisory structures for regulatory issues.
Living Lab
Because the patient-focus is our core mission, centerpiece of the EKFZ is the living lab, which focuses on working in a scientific context and allows a rapid access to patients by providing a common clinical testbed. New concepts and technological applications can thus be tested in a near-realistic setting. Thereby, patients benefit early on from the latest diagnostic and therapeutic procedures.