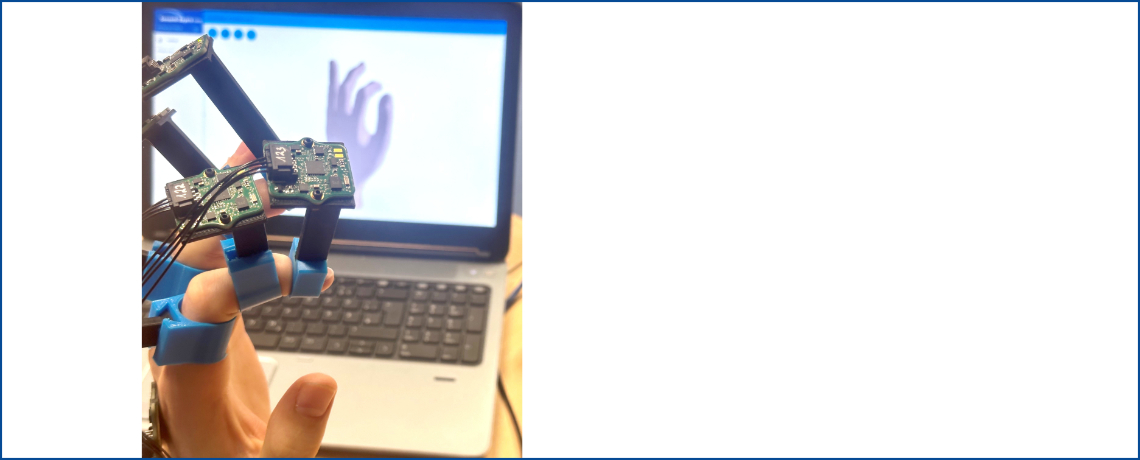 Development of a novel, patient-specific sensory exoskeleton for digitizing the measurement of hand mobility
Medical Need
Hand injuries account for more than a third of workplace-related accidents in Germany. Besides the psychological burden for the patient due to the aesthetic and functional impairment, severe hand injuries are associated with considerable health care costs.  Therefore, a rapid recovery of the hand's functionality is of personal and societal importance. A central component of the treatment is the recurring measurement of the mobility of the hand and the individual finger joints. A 3D printed, patient-specific exoskeleton with integrated miniaturized sensors, would enable the exact measurement of the absolute orientations and the calculation of the angles of all finger limbs.
The aim of the project is to develop an innovative sensory exoskeleton to digitize the measurement of hand and finger mobility in the therapy of severe hand injuries or after hand surgery.
Exoskeleton, 3D print, Hand injuries, Sensors, digitization
Department of Plastic and Hand Surgery, University Center of Orthopedic, Trauma and Plastic Surgery, University Hospital Carl Gustav Carus, TU Dresden
Powder Bed Processing and Printing, Fraunhofer Institute for Material and Beam Technology IWS

Abstract
Severe hand injuries but also regular hand surgical interventions can significantly limit function of the affected hand due to massive trauma in skeletal and soft tissues. While the measurement of hand mobility as part of therapy is currently largely performed manually using goniometers, this project aims to develop a novel sensory exoskeleton for the digitized and quantitative measurement of hand kinematics. Based on 3D scans of the injured hand, a patient-specific exoskeleton with integrated miniaturized sensors shall be printed by additive manufacturing, enabling the measurement of the absolute orientations and the calculation of the angles of all finger limbs. Compared to previous sensor-based concepts that rely on the use of strain gauges or sensory gloves, this approach offers an easy adaptation to the individual hand geometry even after limb loss, a reduced calibration effort and the measurement of more degrees of freedom. In addition to a technology demonstrator for the sensory exoskeleton, a web-based app for evaluating and visualizing the data in real time shall be developed, thus opening up new possibilities for personalized care and telemedicine. Functionality, accuracy and time savings compared to conventional treatment methods will be investigated and demonstrated using suitable subject groups (from healthy hands to complex hand injuries).