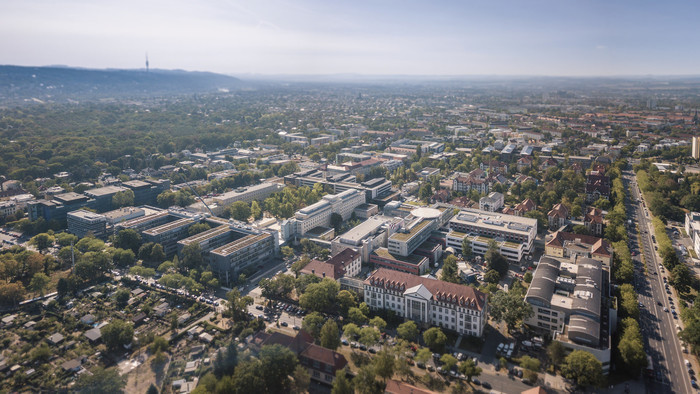 The EKFZ is a scientific institution of the Faculty of Medicine of the TU Dresden. To fulfill its scientific mission, it operates by its own bylaws, its own organizational structure, and its own decision-making bodies. The collaborating Faculties of Electrical and Computer Engineering and Computer Science are represented in the decision-making bodies through their PIs. The organizational structure consists of the Scientific Speaker, the Steering Committee, and the General Assembly.
The Scientific Speaker, Prof. Jochen Hampe, is an appointed professor of the Faculty of Medicine of the TU Dresden. He represents the EKFZ internally and externally and implements decisions taken by the decision-making bodies together with the support staff, headed by an administrative director.
The Steering Committee heads the EKFZ. It is responsible for fulfilling the objectives of the EKFZ, the planning for scientific development, and the quality assurance measures. The Steering Committee consists of the scientific speaker and additionally one representative of each of the founding faculties as well as one representative of the professors appointed at the EKFZ and is completed by the Dean of the Faculty of Medicine and the CEO of the Carl Gustav Carus University Hospital Dresden.
The General Assembly of all PIs has a central role as it discusses strategic questions and makes appropriate decisions. Voting PIs include the initial applicants, center-appointed professors, and additional PIs from the campus as they perform projects at the EKFZ. It is convened at least once a year.
The Advisory Board provides strategic advice on the profile, quality assurance, and development of the EKFZ regarding the ethical, legal, and social aspects, in particular the ethical and political significance of EKFZ results.