Electronic Tissue Technologies
Bioelectronic interfaces are systems that exchange information between living matter and machines. They can take many physical forms such as implants residing in the nervous system, electronic circuits on skin or microphysiological platforms merged with cells or organoids. Bioelectronic interfaces are expected to become a key medical technology in the 21st century that will enable new types of prosthetics and even repair of functions lost through injury or degeneration.
Our main interest concerns building the hardware that will underpin next generation bioelectronic interfaces. The main challenge we address is the seamless merging of living matter and machine. If this can be achieved, long standing challenges relating to biointegration, reliability and limitations in the quantity and type of information exchange may be resolved.
Our work focuses on three distinct areas: new materials for bioelectronics, devices and systems and (pre)clinical translation.

Materials for Bioelectronics
Inside the body bioelectronic interfaces operate in a chemically and mechanically challenging environment. The implanted device must not produce adverse reactions (e.g. foreign body response) in the host and should survive extended periods of time while maintaining its functionality. This places stringent requirements on the materials that make up the bioelectronic devices and system.
We aim to address some of the challenges by engineering materials that resemble the mechanical and biochemical properties of soft tissues such as the brain and additionally transcend purely electrical or purely biological functions.
One focus is on hydrogels possessing both electronic and ionic conductivity combined with bioactive scaffolds. Their physical and biological properties can be electrically controlled which is the basis for sensors and actuators that operate in the electrical, biochemical and mechano-biological domains.
Another focus is on composites. These are formulated by mixing nanoparticles (e.g. platinum, gold) with silicones or hydrogels. Composites can be engineered to be soft and stretchable unlike bulk metals.  Using materials well-known in implantable devices may offer a convenient route to translation.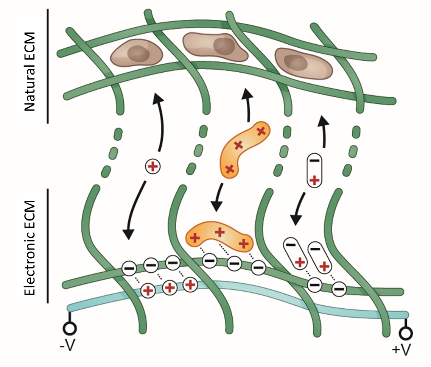 Concept for a hydrogel based bioelectronic material based on hydrogels with engineered electrical and biochemical properties. It may be used to build multimodal sensors and actuators. Adapted from: Minev et al, J. of Polymer Science 2023.

Device and System Integration
Bioelectronic systems are typically composed of sensors and actuators linked to power, communication and computation circuits. They can be as simple as a pair of electrodes linked to a recording system, or may require more complex solid state devices and control electronics. Transducers for chemical signals, mechanical pressure, stretch, light or temperature are also common. Individual sensors and actuators are often combined in arrays. Depending on applications arrays can support several to several thousand of sensors and actuators and may have overall dimensions from the centimetre scale to the micrometre scale.  Systems may be enabled for information exchange in multiple modalities including biochemical, electrical, mechanical and thermal domains and may support wireless communications and autonomy.
We aim to address challenges in processing multiple bioelectronic materials with disparate physical properties into devices, arrays and systems. The materials are often soft and hydrated which makes processing with standard microfabrication technologies challenging.
One of our key research efforts is on adapting or inventing rapid prototyping approaches drawing on various printing and 3D printing technologies (extrusion, ink-jet and electrochemical printing). This enables different bioelectronic materials to be processed together into designs tailored to applications as implants, wearables or cell culture platforms. The miniaturisation level is on the sub-mm scale.
Another aspect of our effort concentrates on system integration. Arrays of sensors and actuators are equipped with custom connectors and integrated with signal acquisition and control electronics to build stand-alone systems for deployment in biological applications.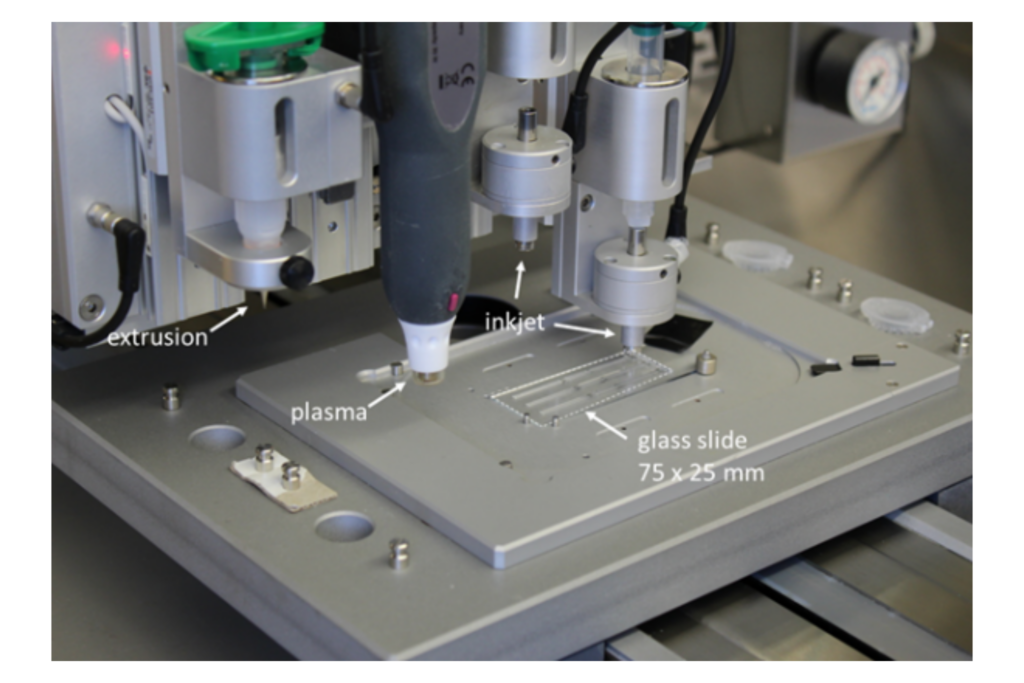 Advanced 3D printing system "laboratory in a box" for integration of soft materials in bioelectronic devices.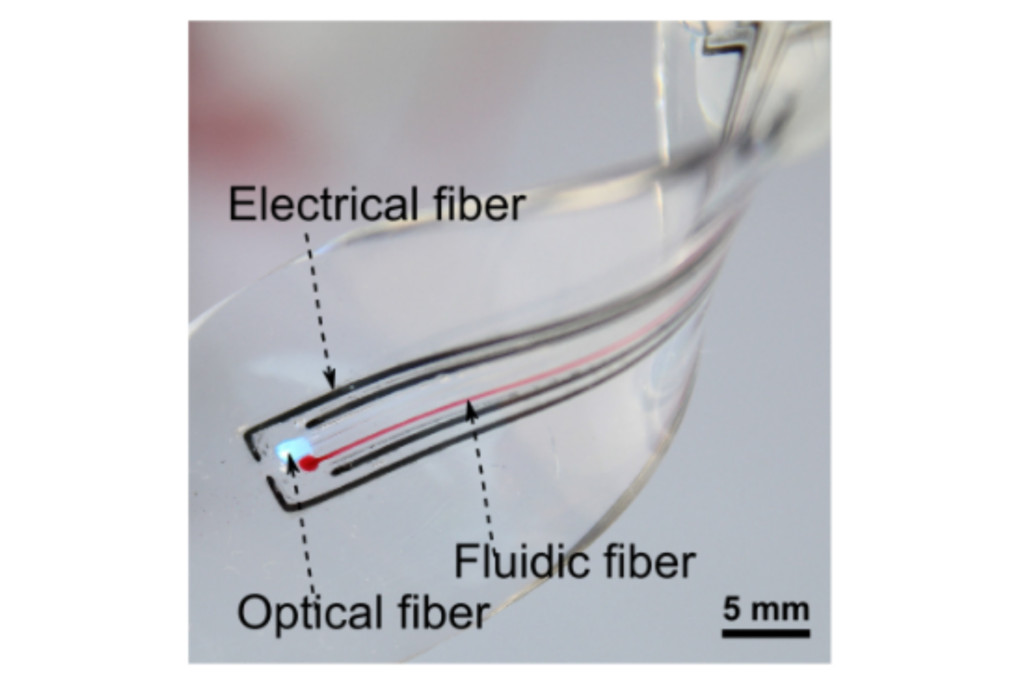 Multimodal array of sensors and actuators for optical, biochemical and electrical interfacing of cell cultures. Adapted from: Athanasiadis et al, npj Flexible Electronics, 2020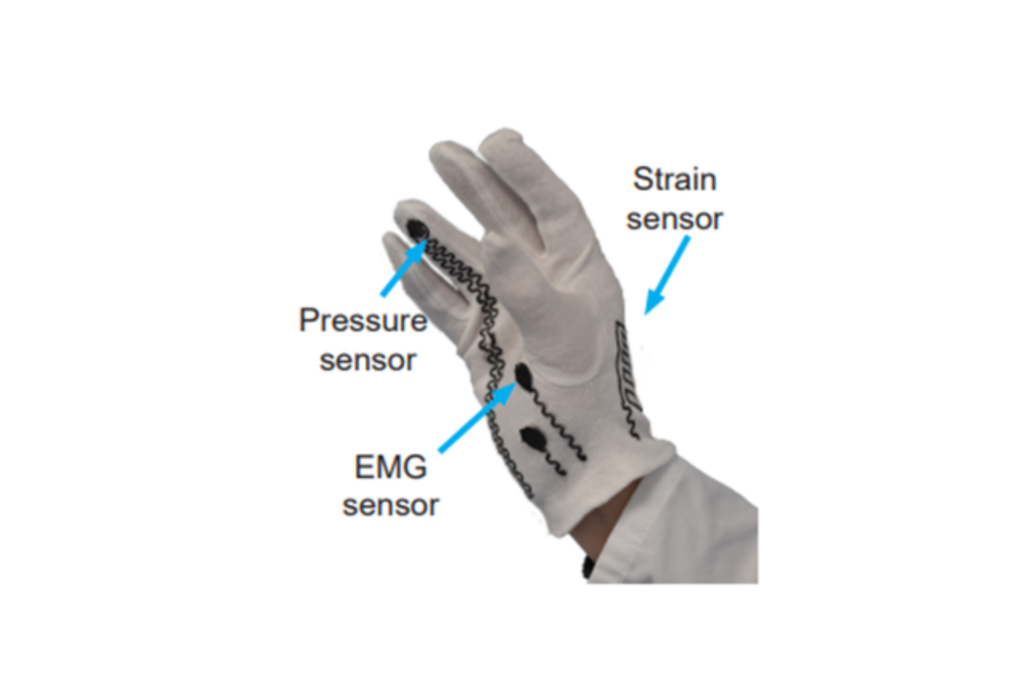 Translation
The translation of any bioelectronic system in clinical practice requires extensive pre-clinical testing and validation. This process is determined by application area and differs considerable between that for an implantable and a wearable bioelectronic system. For both application areas however, the biocompatibility of constituent materials needs to be evaluated as well as system robustness, safety and functionality.
Our translational effort is integrated within the Else Kröner Fresenius Center for Digital Health at the Universitätsklinikum Carl Gustav Carus of TU Dresden and supported by international collaborators.
Our current translational effort is focused on the development of a sensorised glove (eGlove) for extracting quantitative biomarkers of hand strength and dexterity. This may be helpful for monitoring recovery post traumatic events in the nervous system or for aiding the diagnosis or monitoring of neurodegenerative diseases.
Translation of implantable devices such as electrode arrays is another key area where our research group will help to focus joint efforts on the Dresden campus.

Fabrication of sensorised electronic glove for monitoring biomarkers related to hand dexterity and strength.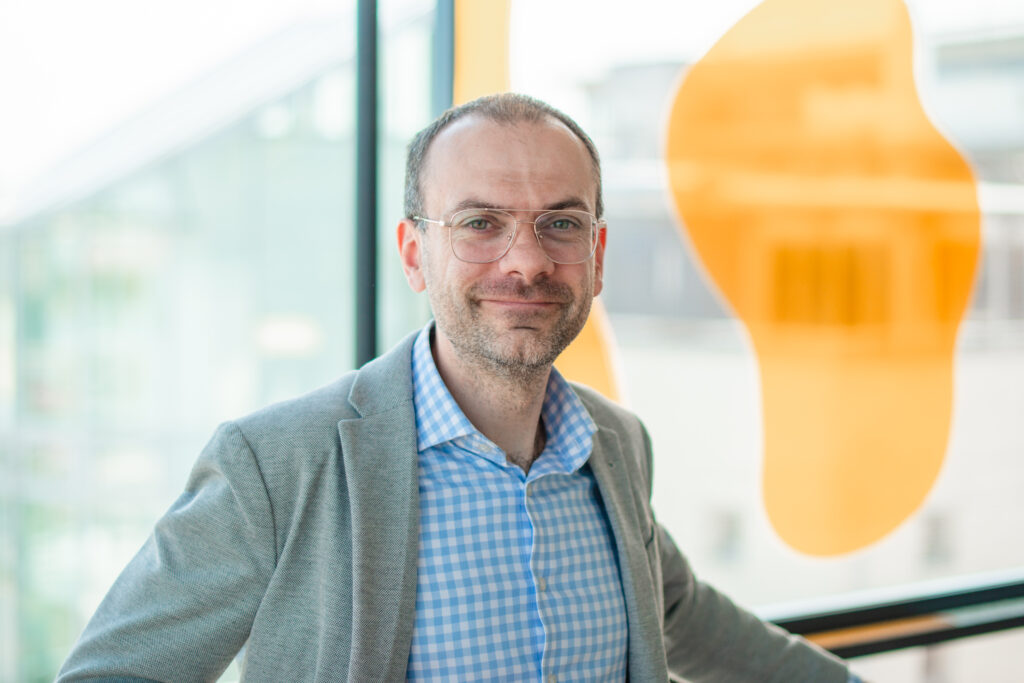 Contact
Please get in touch via