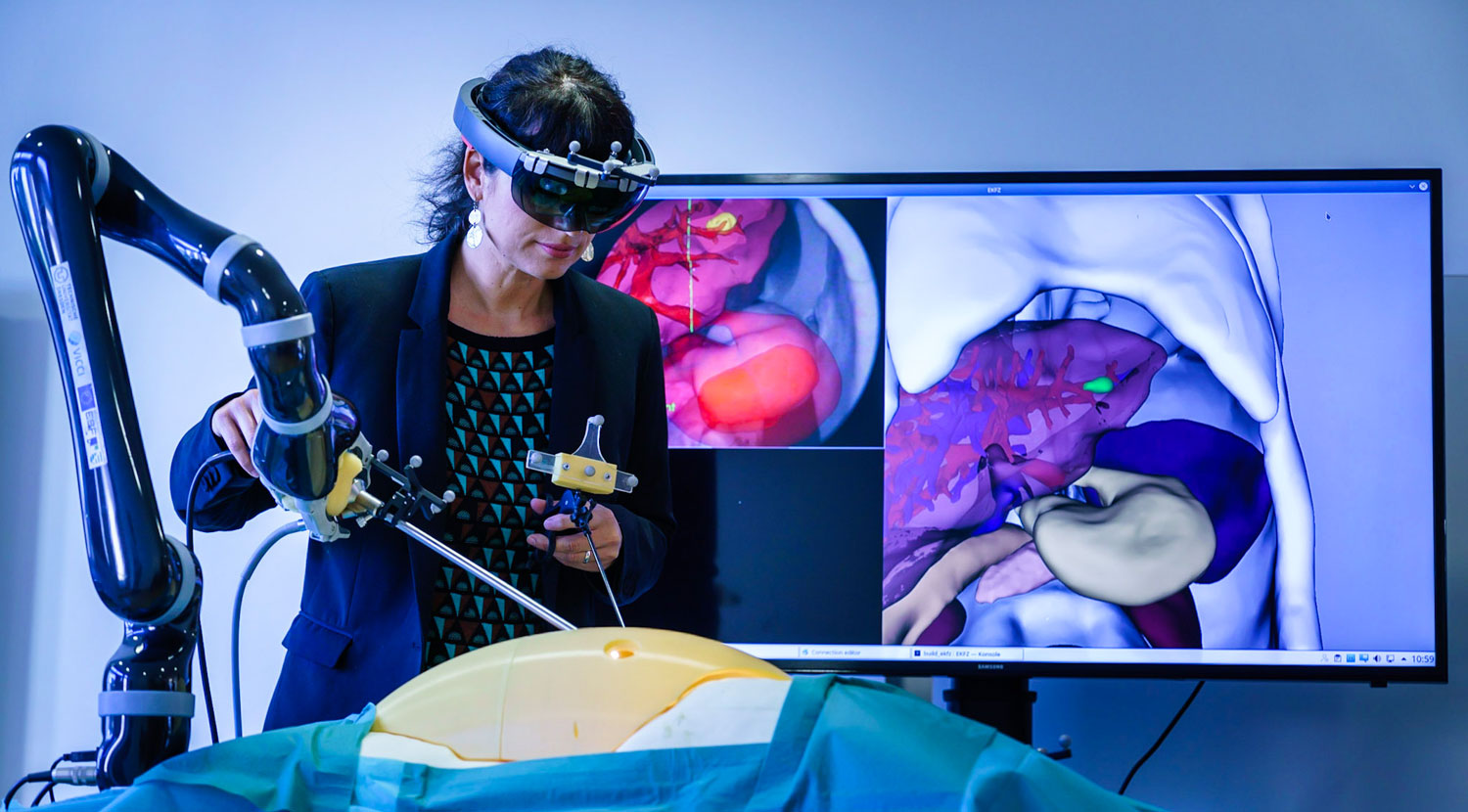 Colorectal robotic assistant for laparoscopic surgery |
Medical need |
Colorectal cancer is the third most common cancer entity and the second most common cause of cancer death worldwide. Curative treatment approaches always involve surgical excision of the primary tumor and locoregional lymph nodes. About half of all colorectal cancers occur in the rectum, necessitating oncologically radical resection of the primary tumor within the mesorectal envelope.
Narrow and deep pelvic anatomy and the risk of injury to adjacent anatomical structures such as ureters and pelvic nerves responsible for urogenital functions make total mesorectal excision (TME) a particularly complex surgical procedure. These challenges could potentially be overcome by an integration of smart assistance functions into robotic surgical systems.
Our aim is to go the pilot steps for next-generation, micro-robotic endoscopic tools based on smart materials. Such endoscopic tools will offer several advantages like integration in cyber-medical systems [4], a much wider movement range, component miniaturization for precise dissections, non-expensive disposable devices – which will drastically reduce endoscopy-associated infections – integrated sensors for haptic and tactile feedback and much more.
NGScope, endoscopy, electro surgery, steerable tools, steerable accessories, smart material actuators, cybermedical systems, robotic systems, precise dissections, single-use endoscopes, disposable endoscopes, haptic and tactile feedback
Surgical navigation for rectal cancer |
Tumor operations on the rectum are difficult. CoBot aims to improve surgical navigation with Artificial Intelligence to reduce complications.
Abstract |
Radical resection of the primary tumor and locoregional lymph nodes within the mesorectal envelope (total mesorectal excision, TME) is an obligatory part of curative treatment strategies for rectal cancer.
Compared to conventional laparoscopic surgery, robot-assisted rectal resection offers mechanical enhancements like an improved instrument dexterity and hand-eye coordination as well as a 3-dimensional view. Beyond this more intuitive handling however, no robust clinical benefit of robotic systems could be demonstrated to date.
This project aims to extend the surgical opportunities of robot-assisted surgery by developing assistance functions based on data science. Applying machine learning algorithms on annotated video sequences, smart guidance functions such as an intraoperative visualization of the correct dissection plane as well as ureters, nerves and vessels will be developed. Additional functions will include automated identification and setting of an optimal laparoscopic view as well as automated intraoperative recognition and removal of debris such as blood and smoke. Ultimately, an integration of this guidance system could result in reduced operation time, lower intra- and postoperative complication rate, shorter hospital stay as well as an improvement in overall survival and quality of life compared to conventional laparoscopic rectal resection.