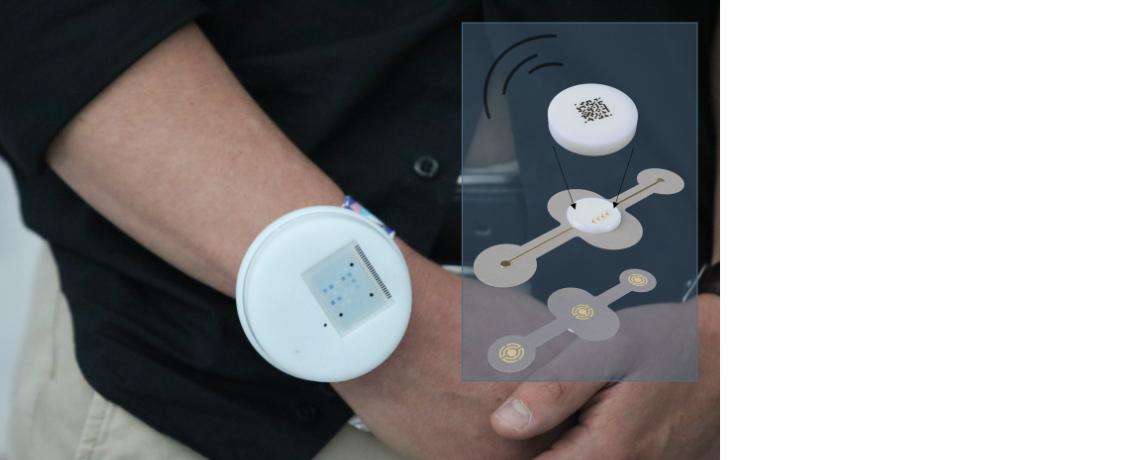 Patch-based patient monitoring with wireless data transmission
Medical Need
We are lifting patient monitoring into the wireless 21st century. To do this, we are developing a dedicated wireless technology that transmits critical data such as patients' vital signs securely and reliably. At the same time, we are implementing energy efficiency so that the patch sensors for vital signs make life easier for hospital staff. Patients can be monitored continuously without complex cabling, even during physical activity or complex interventions. At the same time, contamination and false alarms are reduced. Through open data interfaces, real-time clinical data is made available to researchers.
Patch-based patient monitoring with wireless data transmission, secure and reliable, freeing both patients and healthcare professionals from complex cabling.
Patch sensors, dedicated radio technology, database for vital parameters
Project presentation at EKFZ | InnoDays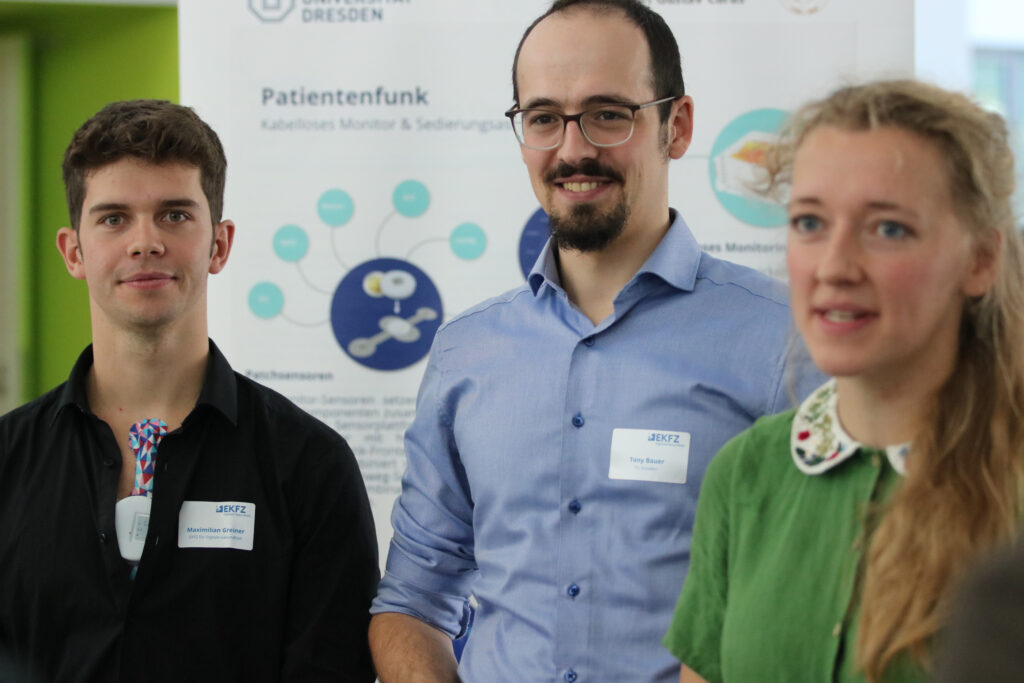 Abstract
Medical need: Almost every patient is accompanied by monitoring during a hospital stay – from the emergency room to the operating room to the intensive care unit. Vital signs are monitored exclusively by cable. This results in various primary problems.
The highly complex cabling impedes both medical and nursing care of the patient. During mobilization of the patient from the hospital bed, such as physiotherapeutic interventions, potentially life-threatening gaps in monitoring occur.
From a hygiene perspective, there is constant contact of reused cables between many patients and spread of multi-resistant germs among critically ill patients. For the staff and especially for the nursing staff, the constant change of equipment and thus of cabling due to transport to functional diagnostics, imaging and transfer leads to an enormous logistical burden. Wired monitoring is prone to interference with false alarms, causing additional workload and noise pollution. Secondary issues arise from lack of connectivity and data collection of current monitoring devices or even paper-based ECG diagnostics. This hinders the development of cyber-medical systems, data mining and intelligent orchestration of data.
Technical challenge: Existing wireless standards (e.g. WLAN, Bluetooth, cellular, UWB, WBAN) do not yet offer a solution for the balancing act between very high reliability and at the same time extreme energy efficiency for vital real-time medical applications.
The object of research in PATIENTENFUNK is the conceptual development and experimental evaluation of a hardware basis for the implementation of dedicated radio technology. This is modular and consists of 2 basic components. Exchangeable body sensors on a patch basis allow a flexible choice of monitoring parameters.  In addition to the classic vital parameters, information such as patient position, fall alarm and identification will be implemented here. The reused system basis allows a sustainable cycle of radio frontend and energy supply, which in turn allows a high energetic density to be used and resources to be conserved.
Goal: The central goal of PATIENTENFUNK is to replace wired patient monitoring with modular wireless patch sensors. Until now, each additional patient monitored has meant an enormous workload for the nursing team providing care. PATIENTENFUNK reduces the logistical effort for medical staff and thus creates a low-threshold monitoring system that can be applied to a larger cohort of patients, directly counteracting complications and severe courses. In addition, it increases patient mobility, improves hygiene, and closes monitoring gaps during mobilization and transport.