Recruitment of young scientists goes digital
On Wednesday, May 5th 2021, the EKFZ will be present at the virtual "Forschungsnachmittag" of the Medical Faculty Carl Gustav Carus of the TU Dresden and will be looking for young researchers. In poster presentations, clinics and institutes can introduce themselves and find out about doctoral opportunities. |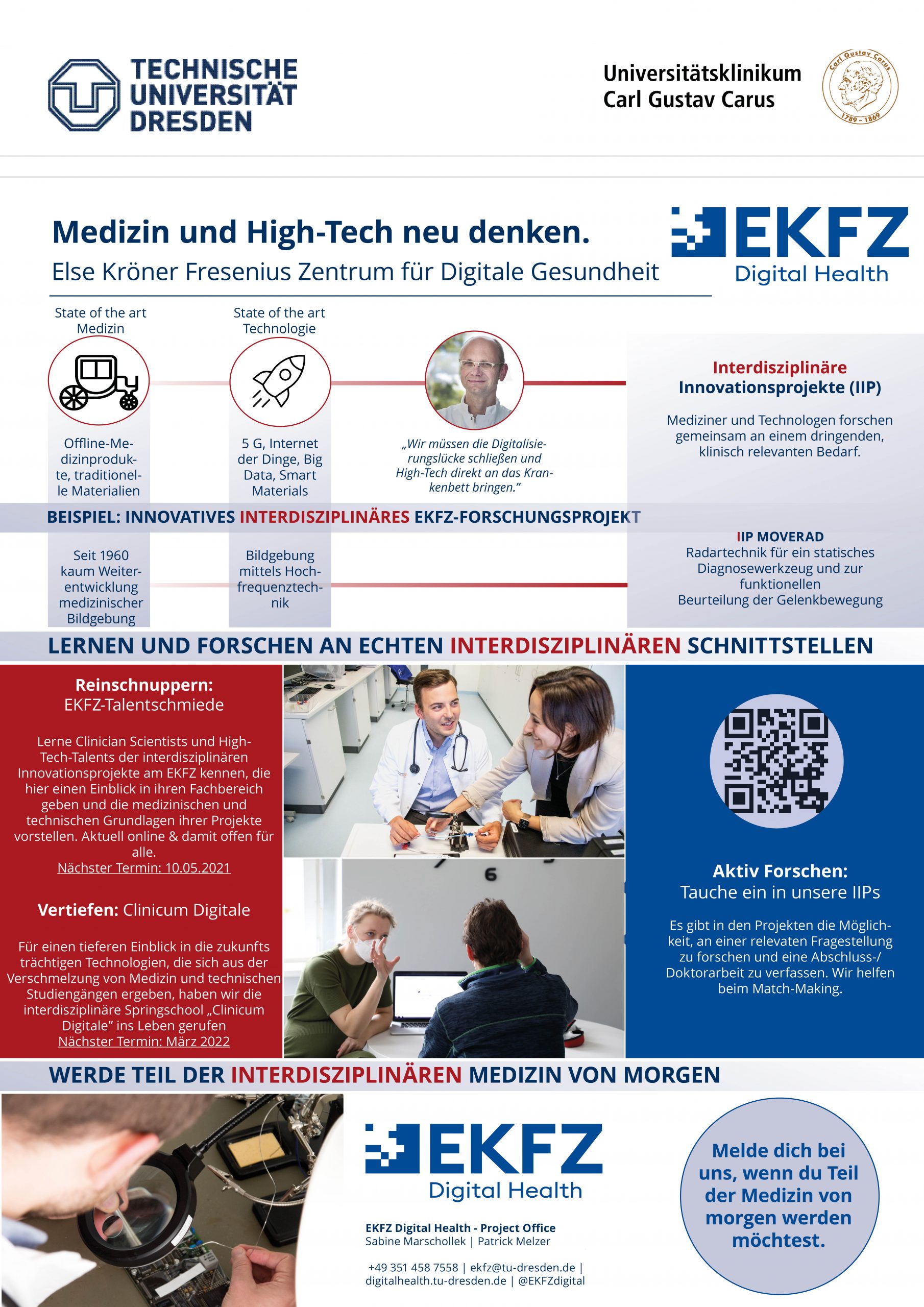 The key to lasting excellent research lies in ambitious young scientists and successful recruitment. With this objective, the EKFZ for Digital Health supports the "Forschungsnachmittag" of the Medical Faculty Carl Gustav Carus of the TU Dresden, which will take place on May 5th 2021, starting at 3:30 pm. It is part of the annual "dies academicus" and will again be held completely digitally due to the pandemic.
Along with many other centers and clinics of the Dresden University Medical Center, the EKFZ for Digital Health will present itself with a poster starting at 4:30 p.m. and introduce interested students to teaching and research opportunities at the EKFZ.
Thereby, the offer is manifold. In addition to degree and doctoral opportunities within the EKFZ's interdisciplinary innovation projects (IIP), students of all semesters will also have the chance to get to know the concepts of the EKFZ-Talentschmiede and the interdisciplinary Springschool Clinicum Digitale. In this way, interested parties will be inspired for the work of the EKFZ and existing contacts in the student body will be deepened in order to be able to successfully advance the stronger digitalization of medicine in the future.
Subsequently, the presentations of the doctoral projects of the Carus Promotionskolleg Dresden will take place. In this context, Clinician Scientist Dr. Fiona Kolbinger will offer a PhD thesis at the CPKD as part of the CoBot project at the EKFZ.
Before the presentations of the individual centers and clinics, Prof. Simmenroth and Prof. Gágyor will describe their experiences with the shared W3 professorship for general medicine in Würzburg and thus provide an insight into this very special and innovative form of cutting-edge research at German universities.
The event is open to all students of the TU Dresden and those interested can attend at short notice.